Natural Remedies and Surgical Options to Get Firmer Breasts
Breasts can lose firmness and become saggy due to many reasons. Gravity, hormonal fluctuations, the natural ageing process, changes that occur during pregnancy as well as weight fluctuations can all be responsible for a lack of breast firmness. If you have a look online, you will find a lot of info and advice about how to get firmer breasts. You will find videos with exercises to get firmer breasts, a diet for firmer breasts and even creams and lotions that can help you get firmer breasts. However, after doing your research, you might find that the only optimal solution to get firmer breasts is with the help of a plastic surgery procedure. In this blog, we will discuss what you can do to prevent breast sagginess and surgical solutions to treat breast ptosis.
Dr Michael Kernohan has years of experience in treating breast ptosis. He offers plenty of options to get firmer breasts such as breast augmentation, lift, and reduction or sometimes a combination of these procedures.
CLICK to Download Dr Michael Kernohan Cosmetic Breast Surgery Guide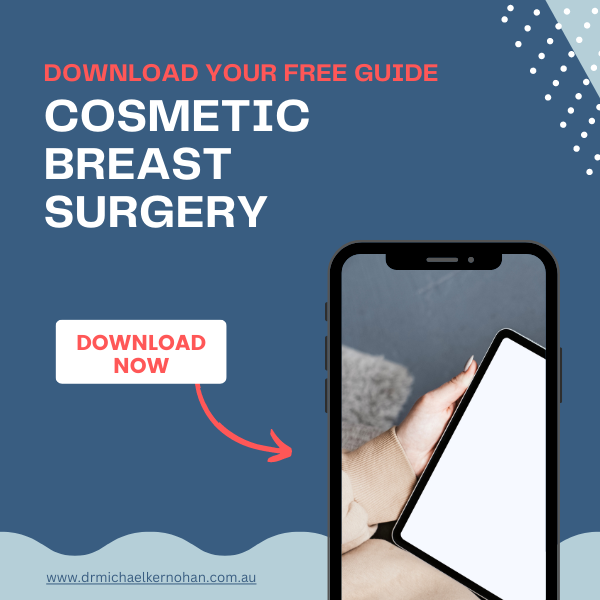 Guide Cosmetic Breast Surgery
Natural Solutions for Firmer Breasts
Once the tissue has lost its firmness, the chances are it will never get firm again, unless it is with the help of plastic surgery. However, there are solutions that you can try to prevent breast sagginess. Keep in mind that there are many factors causing breast sagging and while you can't avoid them all (genetics and breast volume are just two of them), you can try this at home:
· Keep a healthy weight
Considerable weight fluctuations can cause extensive damage to the aspect of the body. Breasts can be severely affected if your body weight fluctuates with more than 2-3 kg in a short period of time. This means that breast ptosis can be avoided if you keep a stable weight.
· Find a bra that fits well
There is an old myth going around and it says that women shouldn't wear bras as they cause breast sagginess. However, the contrary is actually true. A good bra can offer the breasts the support they need and prevent breast ptosis in the long run. That's why you should invest in a good, supportive bra that fits you perfectly and never exercise without a sports bra on.
· Avoid smoking
Smoking is bad for your health. However, you might not know that it can also affect the firmness of your breasts.
· Moisturise the skin regularly
A moisturised, healthy, glowing skin can make your breasts look better. Even the simple act of applying the moisturiser with gentle massage movements can help you keep your breasts firmer for longer.
Can Exercises Help Get Firmer Breasts?
The breasts contain glandular tissue and fat. There are no muscles in the breasts, so toning the breast muscles is another myth. The muscles are under the glandular tissue and these are the chest muscles, known also as pectoral muscles. Working out and exercising can help tone the chest muscles, but this doesn't necessarily translate into firmer breasts as the glandular tissue is not affected.
Exercises can't help you get firmer breasts, but they are efficient in toning the body, helping you get a slimmer figure.
Surgical Options to Get Firmer Breasts
The efficient and long-term solution to get firmer breasts is with the help of plastic surgery. Dr Kernohan performs different procedures to help you get the results you desire. Depending on the size and condition of the breast tissue, Dr Kernohan might recommend a breast augmentation, a breast lift with or without implants, a breast reduction, fat transfer to the breasts or even combined procedures to get the results you want.
1. Breast augmentation
If you have small breasts, the chances are that you can benefit from breast augmentation surgery. The procedure entails the use of breast implants to increase the size of the breasts. Silicone implants have a texture that is very similar to natural breast tissue. Using this type of implant can help you get firmer and also bigger breasts. Read our blog How Can I Enlarge My Breasts?
2. Breast Lift with Implants
If you have small, sagging breasts, then you might need a breast lift with implants to get the breasts you want. The breast lift surgery entails the removal of excess skin. At the same time, the glandular tissue is lifted and repositioned on the chest wall. Implants are inserted to give more volume to the breasts. The breast lift with implants could be the right procedure for you to get perky, bigger breasts.
3. Breast Lift without Implants
If you have sagging breasts but you are pleased with their size, you might need just a breast lift to get firmer breasts. A breast lift surgery can be performed as a standalone procedure. Dr Kernohan will make incisions to eliminate the saggy skin and elevate the breast tissue to a natural position on the chest wall. As a result of the surgery, the breasts will look fuller and perkier and have the same volume as before the procedure was performed.
4. Breast Reduction
If your breasts are heavy and saggy, the breast reduction procedure can help you get perky breasts. Breast reduction surgery is used to eliminate a part of the glandular and fat tissue to make the breasts more proportionate to the patient's body frame. Dr Kernohan will make incisions under the breasts, around the areola and from the areola to the inframammary fold to detach the skin from the glandular tissue and eliminate the excess mammary gland. After the procedure is performed, the patient will be left with smaller, perkier breasts.
5. Fat Transfer to the Breasts
Fat transfer to the breasts is a less invasive procedure that comes with many benefits. The first part of getting fat transferred to the breasts is liposuction in an area of the body with excess fat. Dr Kernohan can harvest fat from the tummy and the thighs for your fat grafting. This means that after the procedure, the area treated with liposuction will have a better contour. After the fat is collected, it is purified and then reinjected into the breasts to give them more volume. To be eligible for this procedure, you need to have enough fat in donor areas. Fat transfer to the breasts doesn't create a considerable increase in the breast size, but it can make the breasts look fuller and perkier.
6. Combined Breast Procedures
In some cases, combined breast procedures are the optimal solution to help the patient get the desired results. A breast implant surgery can be combined with fat transfer to the breasts to create superior results and make the breasts look natural and perky. Discuss your options for breast surgery with Dr Kernohan during the initial consultation and make sure to get answers to all your questions.
FAQs about Firmer Breasts
Is it possible to get firmer breasts without surgery?
If your breasts are sagging and lack firmness, the chances are that you need plastic surgery to get perky breasts. However, you can prevent breast sagginess by keeping a healthy weight, exercising regularly and having a diet rich in nutrients.
How painful is breast augmentation with implant surgery?
Breast augmentation with implants is a rather complex procedure. During the intervention, your plastic surgeon will make incisions around the areola or in the fold under the breasts to create a pocket for the implants under the glandular tissue or the muscles of the chest. This means that the tissue damage can be significant. Despite this, you won't feel any pain during the procedure as you'll be under general anaesthesia. Upon the return home, the plastic surgeon will prescribe pain medication to help you manage the discomfort that could occur during the initial stage of the recovery period.
Can I get firmer breasts if I get a breast reduction?
Breast reduction surgery is performed to help you get smaller breasts that are more proportionate to the rest of the body. Considering the fact that overly large breasts often sag early in life, breast reduction surgery might help you get firmer breasts that are more elevated on the chest wall. Discuss your goals with your plastic surgeon during the initial consultation to understand what the optimal surgical option for you would be.
Will my breasts stay firm for long after a breast lift surgery?
Breast lift surgery can be performed with or without implants and can help you achieve the breasts of your dreams. However, it is important to keep in mind that the results of the procedure are long-lasting only if you follow the surgeon's indication and avoid ulterior weight fluctuations caused by a pregnancy or weight gain. The natural ageing process will affect your breasts even after the surgery. This means that if you had breast lift surgery early in life, you can expect to need another procedure 10 to 20 years later.
Should I change my diet to get firmer breasts?
There are many myths related to the foods you should eat to get firmer breasts. But in reality, to get firmer breasts you should keep a diet that helps you avoid weight fluctuations. A nutrient-rich, balanced diet is the optimal solution whatever your diet question might be.
Further Reading about Breast Procedures to Get Firmer Breasts
Medical References about Firm Breasts and Breast Procedures