Breast Reduction Surgery – Tips for Recovering After Breast Reduction Surgery
How long does it take to recover after breast reduction?
When can I get back to work after breast reduction?
Is the recovery period difficult after breast reduction surgery?
Overly large breasts or heavy breasts that are out of proportion can cause neck, back, and shoulder pain due to the added weight. They can also limit physical activity. Breast reduction surgery can make your breast smaller and take a significant weight off your back. The procedure can also enhance the shape of your breasts.
Dr Michael Kernohan is a renowned specialist plastic surgeon performing breast reduction surgery in Sydney's Southwest Suburbs and the Southern Highlands. He is committed to delivering optimal results to his patients.
Click to Download Dr Michael Kernohan Breast Reduction Surgery Guide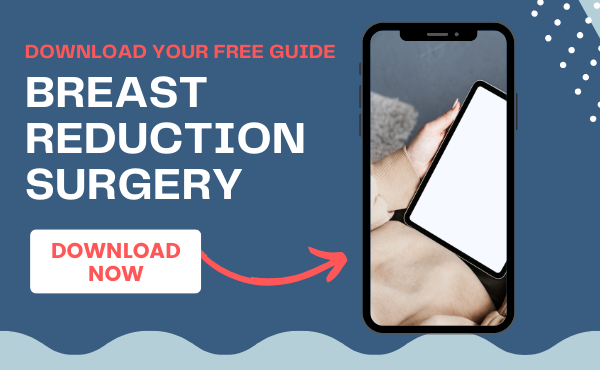 Why Recovery after Breast Reduction Surgery is so important
Breast reduction surgery is a complex plastic surgical procedure that needs a good recovery period. It is important to follow Dr Kernohan's instructions closely during the recovery to minimise post-operative complications like infection or wound breakdown. Some lifestyle changes are also required for a successful outcome and comfortable recovery.
Although Dr Kernohan will give you recovery advice and provide you with a list of instructions, here are some of the most commonly asked questions regarding breast reduction recovery.
A week by week Timeline for recovery after breast reduction
· Week one
In the first week after the surgery please focus on rest and recovering. Follow the post-operative incision site care given to you. Wear compression garments at all times except while in the shower. Drink plenty of water, eat well, and avoid strenuous activity. Stick to your medication schedule. Even starting with the first few days post op, begin to take short gentle walks. Start at 10 minutes a day working your way up to 30 minutes. Allow the breast to heal and reduce the risk of complications by avoiding smoking & vaping and following Dr Kernohan's post-op recommendations.
· Week two
The stitches are usually removed in 7 to 10 days and you should continue wearing your surgical bra.
Pain, bruising and swelling may persist for 1-2 weeks following surgery. Stinging pain after breast reduction, worsening pain, or redness around the incision should be immediately brought to your surgeon's attention.
· Week two to four
In the 2-4 weeks following the surgery, you will notice that your swelling has gone down. Compare your swelling with breast reduction recovery week by week pictures.
· Week four to six
Your breasts are still healing, so make sure you are gentle with them.
· After six weeks
It may take six months to a year for your incisions to fully heal and to see the final results of the procedure.
Top Tips to recover from a breast reduction surgery
Always follow the instructions given to you by your surgical team. You can follow some of these tips for a fast, smooth and straightforward recovery following breast reduction surgery:
Rest in a good position. Keep the chest elevated and avoid sleeping on your stomach for several weeks
Wear a proper bra. A soft and supporting bra will reduce bruising, swelling and keep the breast in the proper position
Don't spend all your recovery time in bed. Start moving around slowly, but stop when you feel pain. Moving will improve blood circulation that will send oxygen to the wound site for a faster recovery. Mobilisation will also minimise your risk of developing a blood clot
Good emotional and physical support is the key to faster recovery. Ask for assistance and support when required. Ensure that friends and family are available to help you for the first 72 hours after the procedure. Household chores, child and elderly care should be designated to trusted people. You also need assistance for dressing up and caring for the incision site
Take your medications as advised by Dr Kernohan. Usually, Dr Kernohan prescribes analgesic medication, as well as antibiotics to prevent a potential infection
Eat healthy and nutritious food. Simple, unprocessed, home food with low sodium will help minimise swelling
Keep yourself hydrated. Drink plenty of water. This can help remove the traces of anaesthesia from your body. It will also reduce the chances of constipation and fluid retention
Keep wearing your compression garments to prevent the incision from stretching. It will also control inflammation and breast reduction swelling on the side
Breast Reduction Recovery FAQs
Now, here are some answers to frequently asked questions regarding breast reduction surgery.
Is Breast Reduction major or minor surgery?
Breast reduction is a major surgery with potential risks and complications. The surgery is carried out under general anaesthesia and you will be asleep during the procedure. The surgery involves removing extra fat, breast glandular tissues, and skin. It also includes reshaping the rest of the breast tissue. Your nipples will be moved to a new position. The surgery may take 2 to 3 hours, depending upon the extent of breast reduction.
How long does it take to fully heal from breast reduction?
Recovery after breast reduction surgery varies as each person responds differently to the surgery. But, generally expect to take 1-3 weeks off your work or school. A complete breast reduction recovery may take 6 weeks. Your strength and energy may come back within a week but limit your physical activity. You can return to work earlier if you don't have a physically demanding job.
When can I drive after Breast Reduction Surgery?
Generally, avoid driving for about 2 to 3 weeks. Put off driving till you can safely use the steering wheel, put the seat belt comfortably across your chest, and can safely perform an emergency stop. You can also use a pillow between your chest and the seatbelt, but ensure that it will not block your vision.
What shouldn't I do after breast reduction surgery?
You can take a gentle walk but intense exercises should be avoided for 4-6 weeks
Do not shower for a week or soak in a bathtub for a minimum of two weeks
Do not drive until you can wear a seatbelt comfortably across your chest and you have stopped analgesic medication for 1-2 weeks
Do not lift heavy objects or bend over to lift them
Do not smoke or vape as nicotine can delay the wound healing time
Do not expect immediate recovery
How long is bed rest after breast reduction?
In the first week following breast reduction surgery, bed rest is crucial. You are going to feel tired for the first 72 hours. Get up and take a short walk as soon as possible to minimise the risk of a blood clot. But it is also important to rest when you feel tired. Getting enough sleep will help you heal and recover faster. Sleep on your back for the first two weeks following breast reduction surgery as sleeping on your stomach will put pressure on your incision. To make sure you get adequate bed rest, let people taking care of you know how important rest is for your recovery. Designate someone to look after household chores, children, and the elderly. Turn off your alarm and get a good sleep.
Do breasts sag after breast reduction?
The breast can change over time even after reduction surgery. The effect of gravity and ageing may cause the breast to continue to sag after reduction. However, the degree of sagging is less severe than before as your breasts are now lighter. Follow these tips to keep your new breast in top shape:
Follow a healthy diet and exercise regularly
Avoid weight fluctuations
Stop smoking as it damages the breast skin
Keep the breast skin moisturised
Wear a good quality and comfortable bra to support the breasts
Can I lay on my side after breast reduction?
It is not a good idea to sleep on your side or on your stomach immediately following breast reduction. You can start sleeping on your side two weeks after the procedure. You should however avoid stomach sleeping at this point and wait till after four weeks. It is recommended that you sleep on your back during the first post-op week.
What happens if you sleep on your side after breast reduction?
Sleeping on your side after breast reduction surgery is going to put pressure on your healing incisions and breast tissue. Side sleeping can strain the fresh incision. It can force the healing scars to stretch and bleed. The additional pressure can also cause swelling of the breast tissue leading to discomfort and pain.
What happens at 1 month post-op breast reduction?
Most women can expect almost a full recovery in a month after the procedure. The breast will begin to feel soft and natural. Swelling will be reduced and you can return to your normal activities.
When can you lift your arms after breast reduction?
You can start moving your hands one to two days after the surgery. Do not lift your arms above your head for 7 days after the procedure. After that, you can begin to raise your hands gently. Gradually lift it further up if you don't experience any pulling, bleeding, or swelling.
What to wear after breast reduction surgery?
You should wear a well-fitted bra after breast reduction surgery. This is going to support your breast tissue and should be worn for at least the first several weeks after the procedure. A bra without an underwire is optimal as it does not put pressure on the incision and breast crease. It is also recommended you wear a bra with a front clasp or zipper. This will prevent you from reaching out to the back for the clasp, thereby reducing tension on your fresh incision.
How can I make my breasts perky after reduction?
Simply wear good supporting bras after reduction surgery. The surgery itself is going to lift your breasts for a perky appearance.
What happens at 6 weeks post-op breast reduction?
You may be able to make a full recovery at 6 weeks post-op, provided that your wounds have healed completely and you have followed all the after-care instructions. Sometimes, recovery time may vary between people.
Further Reading