Which is the Right Facelift for Signs of Ageing- SMAS Vs Deep Plane Facelift
A facelift is an efficient facial rejuvenation procedure popular nowadays. There are several types of facelifts to choose from depending on your desire. The Deep Plane Facelift and SMAS Facelift are two very common techniques. Although they have some similarities, there are still several differences – so, how do you know what is the right facelift type for you?
Dr Michael Kernohan is one of the top specialist plastic surgeons in Sydney who regularly performs facelift surgery for his patients.
In this blog post, let's compare SMAS and deep facelift surgery and see what procedure would be more suitable for your particular case!
What Is a Facelift?
A facelift, also known as a rhytidectomy, is an anti-ageing technique to lift and firm your face, cheeks, and neck – to restore the contour.
If you are considering a facelift, Dr Kernohan can perform a range of non-surgical and surgical procedures depending on your needs and goals:
Deep Plane Facelift: This lifts and strengthens the lax muscles in your cheek and at the base of your chin and neck. A deep plane facelift improves droopy cheeks, double chin, sagging neck, and skin laxity.
SMAS Facelift: SMAS targets ptotic or drooping soft tissue throughout your face and repositions them to improve the appearance of your cheek, midface, and jawline.
Mini Facelift: A mini facelift is perfect for those with minimal signs of facial ageing, especially if it's on the lower part of the face. Compared to SMAS and deep plane lifts, a mini-facelift does not tighten the neck.
Mid-Facelift: This facelift technique focuses on the midsection of your face, like your cheeks. It lifts or tightens your cheeks to remove any sagging and reduces deep creases to better define your facial features.
Jawline Rejuvenation: A jawline rejuvenation reshapes and contours your jawline by extracting excess fatty tissues from your neck area through neck liposuction.
Liquid Facelift: A liquid facelift is one of the most popular facial non-surgical alternatives to surgical facelifts. It uses injectable fillers to rejuvenate the face. This encourages collagen production and improves skin elasticity.
Cheek Lift: Like the mid-facelift, a cheek lift reduces fine lines or wrinkles in the mid-face region while lifting your cheeks and defining your cheekbones.
With years of extensive training and experience in plastic surgery, Dr Michael Kernohan has mastered the various facelift techniques.
The deep plane facelift and SMAS facelift are very popular. Although similar, each surgical approach has its own unique benefits and outcomes.
CLICK to Download Dr Michael Kernohan Facial Rejuvenation Guide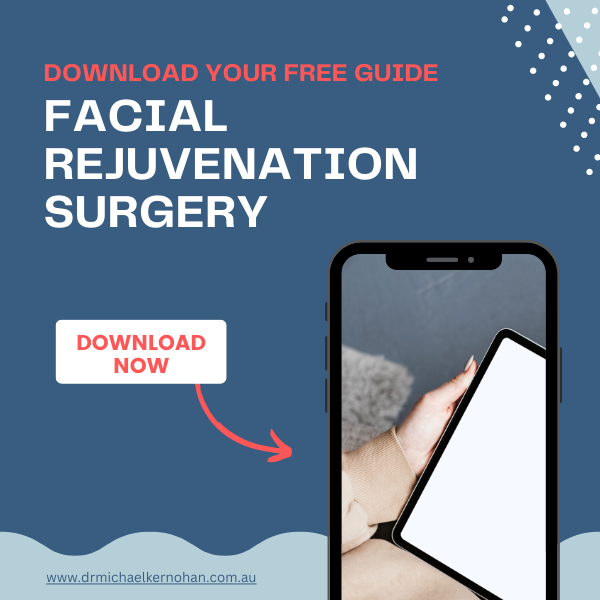 Guide Facial Rejuvenation
SMAS Facelift for Early signs of an Ageing Face
The SMAS rhytidectomy or SMAS facelift is a facial rejuvenation procedure that targets the lower two-thirds of your face and your neck.
Your superficial muscular aponeurotic system (SMAS) is a layer of muscles, fibrous tissue, and fat deep under the skin of your face. It extends from your neck up to the forehead. Signs of ageing start forming when the SMAS becomes lax and droops down.
A SMAS facelift tightens the deep tissues, pulls them up, and cuts out the loose skin from the face and neck.
Deep Plane Facelift for a more dramatic result
A Deep Plane (DP) facelift is a type of facelift that goes beyond your SMAS layer and targets deeper facial muscles (muscles of facial expression) to achieve more dramatic results. Like the SMAS, it lifts and rejuvenates both the neck and face.
In addition to lifting the whole SMAS complex, this technique also reduces the tension in your facial muscles. This prevents them from pulling on your skin and achieves a smoother facial contour.
A deep plane facelift is especially effective in the midface region. It will significantly lift your cheeks and enhance your cheekbones.
In general, deep plane facelifts are considered more invasive, but they do provide longer-lasting and more drastic results.
What Is The Difference Between SMAS and Deep Plane Facelift?
Commonly, patients confuse SMAS and deep plane facelift. Despite the similarities, they are two different types of facelift – different results, recovery period, technique, and outcomes. So, how do they compare?
Let's dive deeper into the SMAS and deep plane facelift to help you determine which facelift type is better for you.
SMAS vs Deep Plane – Surgical Technique
Both the SMAS and deep plane facelifts are performed under general anaesthesia so that you will be asleep throughout the procedure.
The key difference between SMAS facelift and deep plane lift is that in SMAS surgery, the SMAS tissue layer and skin are lifted separately. In comparison, with deep plane lift, the skin, muscles, and SMAS are all pulled up together.
Separately adjusting your skin and SMAS gives Dr Kernohan more control and allows him to tighten these two layers in different directions for a smoother appearance.
Another important difference between the two types of facelift is that in a deep plane technique, Dr Kernohan goes beyond your SMAS layer and targets the deeper muscles. By releasing or tightening the muscles of facial impression, Dr Kernohan can reduce the tension on your skin, smoothing out any irregularities. Going deep also means that more overall lifting can be achieved.
Simply put, the SMAS facelift is less invasive and a more superficial lift as compared to a deep plane lift – but both lead to optimal outcomes.
SMAS vs Deep Plane – Who is an Ideal Candidate?
Both types of facelifts tighten your facial and neck skin and improve their contours.
The SMAS facelift is more customisable to your needs, compared to a deep plane lift. It's preferred in patients who want to correct early signs of ageing, jowls, and sagging in the cheeks – it allows for a custom approach to target specific problems.
A deep plane facelift is more suitable for older patients who want to improve prominent lines, creases, and folds and significant skin laxity in the jaw and neck region. It's great if you're looking for significant facial rejuvenation and a more visible improvement in your facial appearance.
Both techniques are excellent procedures to improve your cheek and facial volume while avoiding fillers or implants.
SMAS vs Deep Plane – Which Lasts Longer?
A deep facelift is more durable than traditional facelifts, like SMAS facelifts, since it targets deeper tissues and muscles. Although more invasive, the deeper technique of deep plane facelifts allows Dr Kernohan to provide effective and long-lasting results.
A deep plane facelift can last up to 10 to 15 years, often longer.
A SMAS facelift, on the other hand, is less invasive and a bit more superficial, but the results can still last up to 10 years or longer. That's not short-lived.
Regardless of the type of facelift, they will all eventually face out due to ageing, sun exposure, and gravity – you might need a second facelift after a decade or more.
SMAS vs Deep Plane – Recovery Period
The initial recovery period following a SMAS or deep plane facelift lasts about 3 weeks at most. Compared to deep plane lift, SMAS facelifts often have a slightly longer recovery time, since the lift is done in separate layers.
In both cases, common symptoms during facelift recovery include bruising, swelling, redness, and facial discomfort. These common side effects of facelift will go away with time.
We will provide you with a compression garment and neck support that you'll have to wear for anywhere between 1 to 2 weeks after your lift.
We advise you to refrain from strenuous activities and hair treatments until 6 weeks after your facelift surgery.
SMAS vs Deep Plane – Cost & Prices
The SMAS facelift is usually more affordable than a deep plane facelift. Since SMAS is less invasive, it usually requires less time and effort, and can hence cost less than a deep plane lift.
In any case, there are several factors to consider when determining the cost of your facelift procedure, such as surgery fee, anaesthesia fee, facility fee, and other surgical procedures you may want to have done (fillers, liposuction, facial implants).
So, once you come in for a consultation and discuss your desires with Dr Kernohan, he can give you a quote of how much your SMAS or deep plane facelift will cost.
If you want to find out more about Facelift prices, visit Dr Kernohan's pricing page
Should I Choose SMAS or Deep Plane?
Choosing between a deep plane facelift and a SMAS facelift depends entirely on your individual needs and goals.
A deep plane facelift is better if you want a more dramatic facelift that alters your skin and your facial muscle. It's the best type of facelift if you have very significant signs of ageing, and want intense improvements. It's also the better choice if you're looking for longer-lasting results.
The SMAS facelift, on the other hand, is preferred if you have moderate signs of ageing, and want to achieve the most natural-looking lift possible. It's generally a less invasive technique with equally impressive outcomes compared to deep plane lift.
Different conditions and factors go into deciding which facelift surgery can best achieve your desired outcome. Dr Michael Kernohan's expertise in facial surgery allows him to determine the right type of facelift for you.
FAQs – Questions about SMAS vs Deep Plane
How does SMAS facelift work?
The SMAS facelift lifts and pulls up your skin first and then repositions the underlying SMAS complex tissue throughout your cheeks, midface region, and jawline.
What is SMAS in plastic surgery?
SMAS is short for the Superficial Muscular Aponeurotic System, a thin layer of collagen, elastin fibres, and fat tissue in the mid and lower face. In the SMAS facelift technique, Dr Kernohan can lift your skin and reposition the SMAS tissue underneath to give your skin a smoother, tighter appearance.
How painful is a deep plane facelift?
Dr Kernohan performs your deep plane facelift with general anesthesia, so you'll be asleep throughout the procedure and won't feel any pain. This technique causes less facial tissue trauma for faster healing and recovery.
What is the best age to have a facelift?
You usually observe visible signs of aging in your 40s. You might notice sagging cheeks, wrinkles, hollow under eyes, and deep lines. The different types of facelifts may have better results in certain ages. We recommend a SMAS facelift for middle-aged patients, while a deep plane lift may be suitable for older patients.
Does it take longer to recover from a deep plane facelift?
Recovery after deep plane facelift surgery can take up to 3 weeks. You'll be able to get back into your daily routine after 2 weeks. Depending on your condition, other facelift techniques may require longer recovery.
Is SMAS or deep plane better?
Choosing between a SMAS and a deep plane facelift depends entirely on you and your goals. Both have their advantages and achieve different results. Use this article as a guide to help you decide whether a SMAS facelift or a deep plane facelift is the best plastic surgery for you.
How much does SMAS facelift cost?
The cost of a SMAS facelift is generally more affordable than a deep plane facelift. The exact cost will depend on your consultation, facility fees, surgery fees, and other factors that you must consider. Phone Dr Kernohan's team for an estimate
How much does it cost for a deep plane facelift?
In most cases, a deep plane facelift is more expensive than the SMAS facelift because it targets deeper layers. However, multiple factors go into the ultimate cost. You can get an estimate by contacting the clinic or a precise quote after a consultation with Dr Kernohan.
Further Reading about facelifts
Medical References about SMAS vs Deep plane Facelift